Half of our job is education. We want you to be "in the know" when it comes to the energy market. It is important to us that our clients understand the "why's" behind a rate. This is why we post energy updates; so our clients can understand when to buy in, how much to buy, and upcoming trends.
As fears of a global recession resurface, the energy markets remain elevated. The Bank of England followed the US and Japan by implementing another interest rate hike, the highest level since 2008.
Source: Nick Gerome, CTA
April 2023: Oil Market Changes
Because of the banking crisis, oil prices increased, which pushed OPEC to announce plans of cutting production by 1Million barrels/day.
Source: Nick Gerome, CTA
February 2023: Natural Disaster
Early February started with the devasting 7.8 magnitude earthquake that struck Turkey and Syria. The disaster caused oil flows to stop in the region as well as reduced outflows to the Mediterranean coast.
Source: Nick Gerome, CTA
January 2023: NG Down 33% from December
As seen in our last market update from December, NG prices are now down 33% (from 12/19/22).
Source: Nick Gerome, CTA
Natural Gas Chart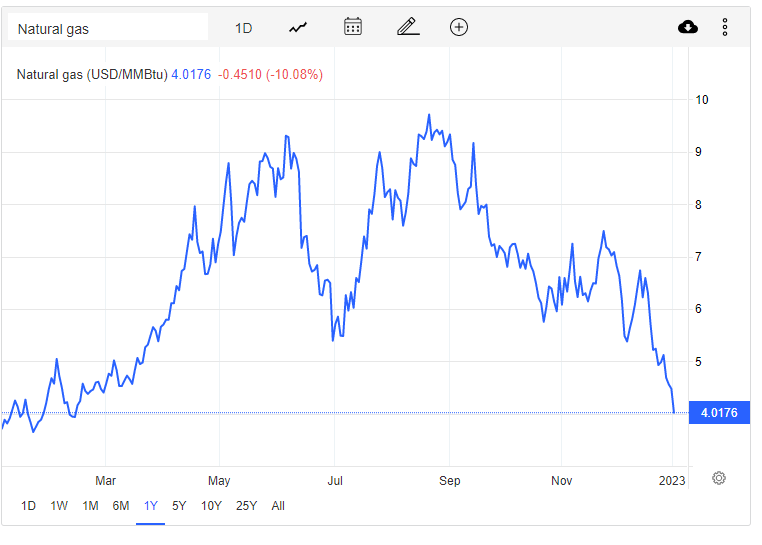 December 2022: Gas Prices Fall
August 2022: Upward Momentum for EU Gas Prices
Causes for Rally:
Russia stopping gas flow
Cold winter with not enough output
What this means for the US – pressure on gas prices as higher-than-normal European export demand is expected to continue, while domestic supplies remain below the 5-year average.
Sources: Nick Gerome, CTA, Taurus Advisory Group & www.reuters.com
May 2022: Upward Trend of Energy Prices
Market Impactors:
Russia conflict with Ukraine
Lack of fuel sources
Interest rate increase
Bounce back from COVID
How to combat – Lock in non-commodity energy components with future heading plans to capture market dips
As we can still see an upward trend in power prices, there is a downward trend in national REC pricing
May 2021: Natural Gas-Fired Generation On The Decline
Natural gas
markets are in retreat this week as 
prices 
fail to
 break through 3 
dollar
s
, a major resistance level. We think prompt month natural gas prices will trade within the range of $2.50-$3.00 this year with spring and summer contracts struggling to remain elevated. 
Links:
Sources: U.S. Energy Information Administration, Nick Gerome, CTA, Taurus Advisory Group
November 2020: Managed Energy Buying for Future Markets
Mild winter temperatures, COVID, and cheap natural gas accounted for competitive rates in 2020. As we enter 2021 where futures show volatility, energy users are opting for a managed and layered approach that maintains budget goals but most importantly provides optionality through 2024 and beyond.
Links:
Source: Direct Energy
August 2020: Natural Gas on the Rise
New York Mercantile Exchange (NYMEX) reporting a 70-cent natural gas increase of the price for the 12-month strip (September 2020-August 2021) from $2.20-$2.90. This is not a positive indicator as we are knee-deep in hurricane season and the looming economic effects of COVID-19 are starting to settle in.
Links:
March 2020: NYMEX 12-Month Lows
Mild winters coupled with COVID-19 push the energy market to lows last seen in 2015-2016. NYMEX 12-month strips are currently averaging $2.07/MMBtu, while the past 5 years has averaged $2.80/MMBtu.
Market Update: NYMEX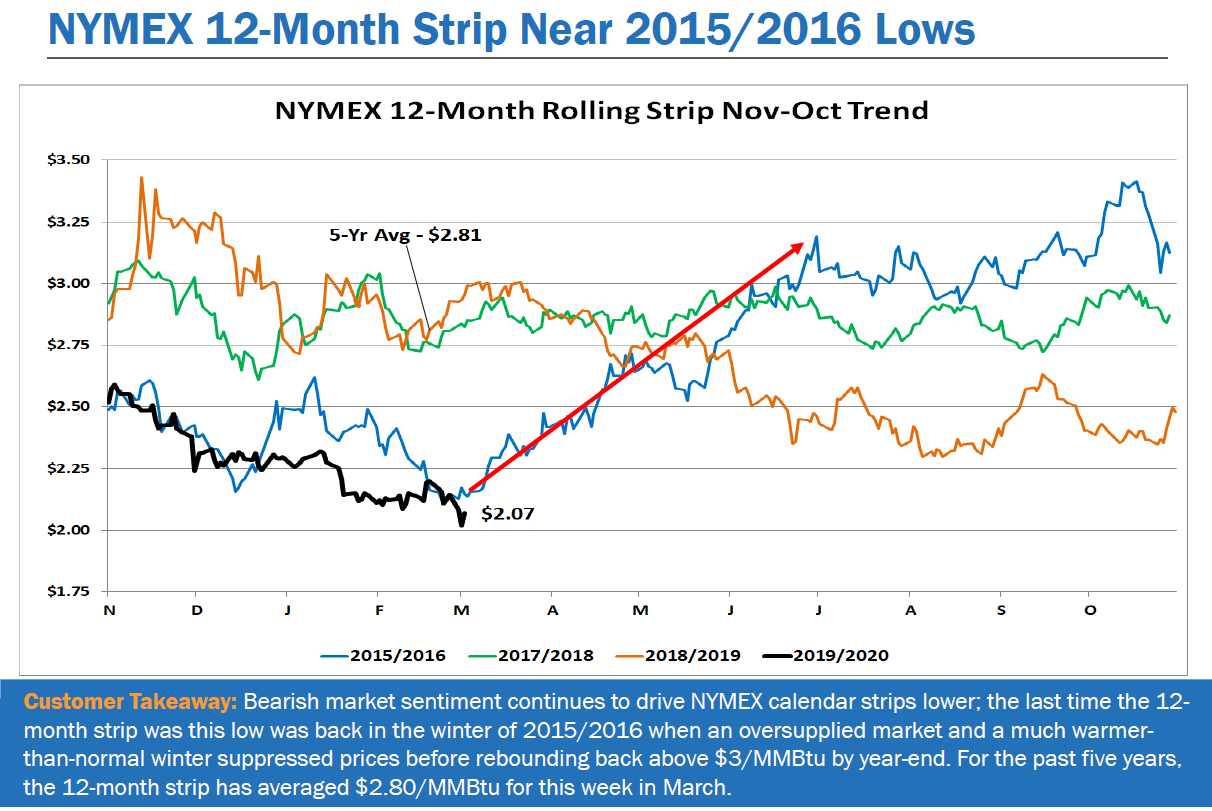 Jan 2020: PSE&G, Met-Ed, & Penelec - Transmission Increase
Jun-Sept 2019: Market Low for Natural Gas