September is certainly going out with a bang. This month has brought more volatility in the energy market than we have seen since 2014. Normally a more favorable pricing time, this month has blessed us with above-average temperatures averaging around 80 degrees, hurricanes, and natural gas prices breaking through the $5 mark and topping out at a whopping $5.65/MMBtu. The question is now: Where do we go from here?  
Unfortunately, this elevated market is here to stay awhile. With production of natural gas taking a dip across the world and a deficit in storage, we are about to be entering the colder months with limited supply. Nobody knows this more than the UK right now who is experiencing record high wholesale energy prices, having increased 250% since last January. The energy crisis in Europe is the result of a perfect storm of lowered gas deliveries due to a high demand in Asia, less wind resulting in fewer renewable energy output, and a shutdown of a large cable that brought electricity from France. Suppliers are already going belly up with the closing of People's Energy and Utility Point. The U.S. continues to produce and export more than 10 bcf of LNG (Liquified Natural gas) a day.  
Back in the states, we are continuing to weather the storms, quite literally. With hurricane season in full swing, we are experiencing even more hurricane activity than ever before. Weather is usually the driving force behind the natural gas market in the U.S. but because of the elevated demand for cleaner fuels, the demand for natural gas on a global scale is just continuing to rise. Making it an even hotter commodity than ever before. Speaking of hot, the elevated temperatures are driving the demand for cooling which in turn drives the price for both electric and natural gas. In fact, this September is turning out to be in the Top 5 all-time total degree days. If history repeats itself, the other 4 years that we experienced this heat yielded an early winter with heavy snow. However, November will give way to cooler normal temperatures which will drive demand down.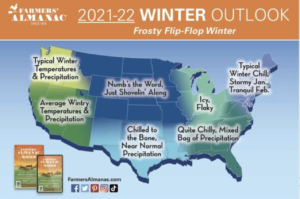 Natural gas received a storage injection last Thursday which brought a slight price drop. We will see another 3 injections by November which should bring prices down significantly, however, this would need to be paired with significant reductions in demand. The electricity front is similar to that of natural gas since nat gas is mainly used in the generation of electricity. Higher wind generation and elevated natural gas prices will force generators to seek cheaper fuel resources such as coal. The only problem is that most coal plants are being shut down. So, the problem still results in elevated electricity prices due to elevated natural gas. 2022 will continue to be volatile with the prices to match. Needless to say, we are in for a bumpy ride.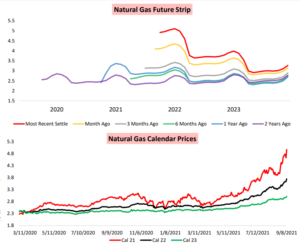 Written by: Kristin DeBias  
Sources: Wales Online World News  
 Nicholas Gerome, CTA, Taurus Advisory Group