A winter storm pummeled the heartland that left millions without power – highlighting the holes in Texas' power grid. 
By noon on February 16th, more than 4.4 million people (about twice the population of New Mexico) were without power after the second wave of what would be a deadly winter storm, hit the Lone Star State. The storm would claim a death toll of nearly 70 people nationwide: the majority of those deaths being in Texas. More than a dozen of these deaths was directly due to lack of heat which was attributed to the rolling blackouts caused by the storm. So how does and entire state's power grid virtually fail? Which brings up a better question: How do we prevent it from happening again?  
It really was a "perfect storm" scenario. With 52% of the fuel mix represented by natural gas used solely for heating, the ramp down of natural gas drilling and other power plants, the lack of natural gas storage, the dwindling capacity of the grid and the increased demand – it is no wonder Texas' energy infrastructure failed miserably. Let us start by looking at the storm itself. The storm came equipped with below freezing temperatures and snowfall/ice averaging 3-5 inches at Dallas Fort Worth and as high as 9 inches in Gun barrel City. But that's not all, the second wave of the storm came 2 days later dumping an additional 2-4 inches on average and as high as 7 inches in Honey Grove with temperatures in the mid 20's. For Northeasterners, this is a typical weather pattern from December through March so it might not seem like a huge deal. We need to consider that this is Texas, a state that has never (at least recorded) experienced the snowfall and wintery conditions that this storm has brought. Needless to say, a storm of this magnitude and destruction was nothing short of unfathomable – until it happened.  
Every region in the U.S. has a different fuel mix. Northeastern fuel mix is comprised mostly of natural gas, nuclear, and hydro. Below you can see Texas' fuel mix.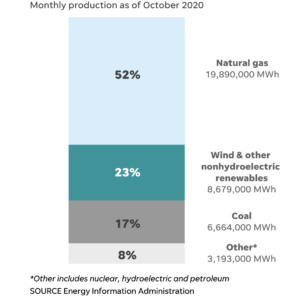 Natural Gas is the largest fuel source for heating in this region while cooling mainly runs on electric. This is the reason that Texas' peak demand is usually in the summer months. In fact, at this time of year, most power plants that run off of coal and natural gas shut down for routine maintenance ahead of the cooling season. So, some power plants were already offline before the crisis even began, adding to the problems, experts said. The Electric Reliability Council of Texas, or ERCOT, anticipated 4 gigawatts of maintenance outages during the winter. This lack of natural gas generation and production results in low grid capacity. Low grid capacity + high demand = blackouts.  
This picture accurately depicts the timeline between the eclipse of demand and capacity.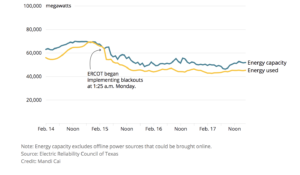 ERCOT reported 45,000 megawatts offline. Of that, 15,000 megawatts were wind and 30,000 were gas and coal. Supply fell short by about 34,000 megawatts. This is a huge pitfall. Especially given that this is not the first time this has happened. The winter of 2011 brought a similar cold front with below-freezing temperatures, and of course – blackouts. If only we would learn from our mistakes. The 2011 cold front did bring to light the possibility of winterizing the power plants in the region which would prevent major interruptions. But even after upgrades were made after the 2011 winter storm, many Texas power generators have still not made all the investments necessary to prevent these sorts of disruptions from happening to the equipment. 
Storage also played a huge role in the recent grid collapse. Texas does not have as much storage capacity as other states because the resource-rich state can usually pull it from the ground when needed. Keyword being "usually." Of the storage that the state does have, the resources are somewhat difficult to get to. Luke Jackson, a natural gas analyst for S&P Global Platts, said that physically withdrawing stored natural gas is slower than the immediate, ready supply of lines from production and cannot compensate for the dramatic decline quick enough. Instead, the plants rely on the constant flow of natural gas from pipelines that run across the state from areas like the Permian Basin in West Texas to major demand centers like Houston and Dallas. These systems were not built to withstand freezing temperatures. In early February, Texas operators were producing about 24 billion cubic feet per day, according to an estimate by S&P Global Platts. But on Monday, Texas production plummeted to a fraction of that: Operators in the state produced somewhere between 12 billion and 17 billion cubic feet per day. "Gathering lines freeze, and the wells get so cold that they can't produce," said Parker Fawcett, a natural gas analyst for S&P Global Platts. "And pumps use electricity, so they're not even able to lift that gas and liquid, because there's no power to produce." 
The solution does not only lie in the winterization of power plants and increasing storage capacity. In recent years we have seen an increase in deadly hurricanes, extreme temperatures, and a rise in natural disasters. So, whereas we might be inclined to point fingers and focus on this singular instance of negligence, we should not overlook the even bigger problem glaring at us: The Climate Crisis. 
Written by: Kristin DeBias 
References: The Texas Tribune, 5 NBC, Marketwatch, S&P Global Platts